In 2013, Ann Leckie published Ancillary Justice, the first book in her RADCH EMPIRE series. The book swept the 2014 awards, garnering a Nebula, an Arthur C Clarke and a Hugo award for best novel. In 2014, Leckie followed it up with Ancillary Sword, and the final book of the trilogy, Ancillary Mercy, came out this October, and landed on the New York Times best-seller list. Leckie keeps a busy schedule with writing, book promotion, managing a family, and occasionally beading. She took a few minutes out of her day to chat about Ancillary Mercy, distributed consciousness and working on a surveying crew. One commenter with either a U.S. or Canadian address will win a copy of Ancillary Mercy.
Marion Deeds: You captivated me from the early pages of Ancillary Justice with the idea of distributed consciousness, and by depicting it in a way that was deceptively simple, (a first-person narrator experiencing input from numerous sources at the same time) rather than getting more stylistically convoluted. What sparked this idea for you, and did you do much research on distributed networks before you attempted it?
Ann Leckie: I first had the idea of a character who had many bodies and could therefore be in lots of places at once. I didn't actually do much research into distributed networks–most of my research was into human psychology and neurology, and then working out what problems (or advantages!) might arise from sharing information (or more than information) over large distances.
Seivarden Vendaii is a character who is, in some ways, as bereft and isolated as Breq. The difference is that her roots are in the aristocracy, and she has always had a slight air of condescension and entitlement. In this book, that creates some issues for her and she has to deal with the consequences. Was any of that based on the numerous current discussions about privilege?

I have certainly been listening to various discussions of privilege, and thinking about how I have (or haven't) seen that operate in my own life. I didn't, though, set out with any aim to depict privilege or teach anyone anything or "say" anything about it–it's just, those thoughts were part of my set of potential choices when writing my characters. And honestly, a certain amount of the discussions I've been listening to have left me going, "Oh, yeah, right, I've seen that happen a lot, and now I have a name for it." So, Seivarden's various difficulties weren't a direct response to any of the discussions surrounding privilege, but of course those discussions have informed some of what I think about how people behave in certain situations.


All three books tantalize us with mention of non-human species, the Garseddai, the Rrrrr and of course the Presger. You never show us any of them. (We might see a Presger, actually.) Do you think the story loses anything by skipping the non-human or non-post-human species? What went into that decision?

Most of the aliens aren't onstage because they don't figure in the story, not directly. (The Garseddai are human, incidentally. I suspect you mean the Geck.) And the Presger, well, they're powerful and utterly alien–if I brought them directly onstage they would probably be sort of cut down to size so that I could fit them on the page–they'd be reduced and demystified. So I decided it was much better not to have them seen directly.
This question goes in a completely different direction. What was it like working on a surveying crew?
A lot of fun! But also cold or hot depending on the weather. And on construction sites, particularly in the winter, the mud would suck the boots off our feet if we weren't careful.
Brrr! That sounds… brisk, and unpleasant.
It could also be a bit weird when we were doing what was at the time called a mortgage inspection report (at least in Missouri, and I forget what they're called now)–a very basic survey required by a lender when someone bought a home. You can't do a survey of a lot in isolation–you have to tie it down to other nearby points that you can say "look, they're on this plan here, that's in the county's records, and the lot in question is in just this place in relation to those points." So depending on how the subdivision was laid out (and how old or new it was) we'd sometimes have to go crawling around in neighboring yards to find markers other surveyors had set, and often dig down a bit to expose those markers so we could measure off them, and sometimes homeowners would find this disturbing, and get a bit confrontational about it.
You seem pretty busy, finishing up the books, publicizing the current book, maintaining a blog… and then last year you had to go to all those award banquets. That must have been terrible. Seriously, though, what is an average writing day like for you?
Ideally, my average writing day is me seeing everyone else off to their daily obligations, starting the dishwasher, and going into my office where I write a few thousand words, break for lunch, and the go back over the morning's work. In reality, I often get sidetracked doing the things that are easiest for me to do because I'm free on weekdays (various appointments, some shopping or cooking, etc). And when I'm in the planning stages of a project I ideally spend my day reading–but, you know, sidetracked a lot. This is why a lot of writers go to the coffee shop or the library, actually–all the things you need to be doing around the house aren't there to distract you.
FanLit likes to ask our authors about a favorite beverage. It can be alcoholic or non-alcoholic. Do you have a signature beverage you would care to share with us?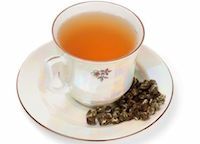 Tea! At this point, nearly everyone associates me (and my books) with tea. Right now I'm really enjoying trying different sorts of oolong, though I'm basically up for trying any sort of tea I can get my hands on.
Thank you for your time.
Thank you!
U.S. and Canadian readers, comment below for a chance to win a copy of Ancillary Mercy.